Hi Girls,
Miranda here bringing you a new challenge.
As we are all trying very hard to bring more life in the forum and the blog and as I was thinking about what kind of challenge I would prepare for today, I thought it would be fun to make an 'all-about-me'-challenge so we get to know each other a bit better…
Most of us always scrap kids, hubby's and our furbabies but this time I want you to scrap a page only about YOU!! I know, it is hard, it is 'out of the box' but that is the challenge..
A. I would love to see a page with at least 2 pictures of YOU…
B. I don't want to see pictures of your children, hubby or your favorite pet
C. I want a journaling about YOU…you can mention your family but it should be about you..
Wow..is that a challenge….I already did mine and it was fun. I took some pictures especially for this occasion and yes…I like the result.
You can use the Life in a Box-templates or you can scrap your own layout..whatever you prefer.
Please post your page in the challenge gallery before Wednesday, February 20th, 2013 and leave me a link here in this blogpost. I will announce the winner on this Wednesday!
Here is the page I made..hope you like it!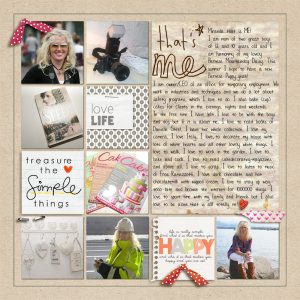 Good luck and see you in two weeks!
Miranda