Hi everyone! Kelly (kenandbelly) here today. I'm so excited to kick off the Twelve Days of Christmas Countdown celebration here on the Weeds and Wildflowers blog!
For each of the next twelve days, one of the creative team members will be posting a digital scrapbooking freebie here.  As you might guess, festivities are going on in the Shoppe as well.  A different item in the shoppe will be on sale for half price each day until 12:00 midnight, EST.  These freebies and these sale prices will only be good for 24 hours so plan to check back each day!
I have several goodies to share with you today, including a photo shoot tutorial in addition to our first Countdown to Christmas freebies.  The tutorial lets you in on my secret to a great photo shoot technique that I used on my Christmas card this year.  Before I share my freebie with you—and the secret to a great photo shoot technique that I used on my Christmas card this year but that is usable for any occasion—
First, however, let me show you today's half-price product, the Wildflower Holiday Kits Collection.
The collection includes three kits by Patricia Christensen,  "At the North Pole," "Expecting More Snow," and the original "Wildflower Holiday" kit.  You'll get textured digital papers, overlays, frames and all sorts of embellishments.  Her doodled elements are so merry!  Remember, the collection is half off today only so don't miss it!
*****
And now onto the freebie I have for you!  I've made a quick page (QP) out of our Christmas card for you all, just in case you're waiting till the last minute.  And I'm going to suggest a zippy way for you to customize it with your own pictures.  The secret to my photo shoot technique is in your favorite graphics design program.  I use Photoshop Elements but this effect should be achievable with most any program.
Here's what the card looks like with my pictures in it.
I'm pleased to be sharing this freebie with you all because I'm really happy with how our card turned out this year — and from the comments I got in the gallery, I can tell that a lot of people are interested in how I did it.  So, before I give you the download link for the QP, I'm going to give you a little tutorial about how I got the "Fa La La" to photograph so well.
Don't you just love pictures with kids holding up signs? They seem magical somehow, perhaps because of the "how'd they get that kid to do that" effect.  Here's the thing: this photo shoot is a LOT easier than it looks. If you do it the easy way, that is. Doing it the hard way, the way you might think I did this, is really frustrating and difficult to pull off. Trust me, I've tried it the hard way.  Getting a little one to hold the sign so it's readable is really tricky. Making the sign look nice in the first place is tricky, too.  I know I don't like looking at my own sloppy handwriting on signs!
This year… it dawned on me.  Duh.  There's an easier way.
So, you wanna know how to make a kid-with-a sign photo shoot work? The easy way? (I feel like I should cue a drumroll here…)
Give the kid(s), your spouse, your friends, your dog, your snowman, whoever, a BLANK sign to hold.
Use your digital scrapbook stash to fill the sign in later! (hint: something with a felt-tipped marker look like Gina's little whimsy alpha works great for this). Simple, yes. Effective, yes. Neat-o?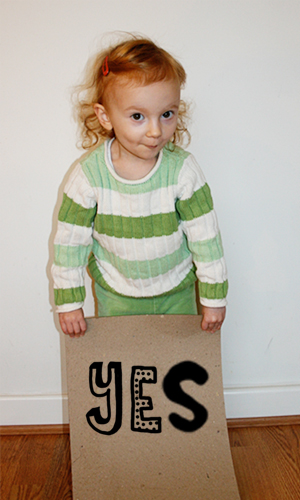 This way, it doesn't matter what way they're holding the sign, how they're holding it, or where they're holding it. They can hold it backward. They can hold it upside down.  They can wave it around.
They can actually get silly about the whole thing– and they just might get silly because they'll likely start to think that YOU are nuts for taking pictures of them doing this—and pictures of them laughing at you behind the camera are exactly the kind you want to capture, am I right? Just keep snapping away and get 'em to have some fun with it.
A regular piece of printer paper would work fine for this photo shoot. Bigger can be better, though. Cardboard works great for this—my daughter's holding a piece of cardboard I scavenged from the back of a pad of construction paper. How easy is that?
Oh, and one more tip. Never underestimate the power of a good bribe, I mean, treat to bring out their grins. My daughter loves candy canes so I gave her one during our photo shoot and it turned out to be a really sweet prop.
There you go! That's my secret for a kid-with-a-sign photo shoot. Click on the preview *** SORRY, LINKS HAVE EXPIRED*** to download the card QP. Grab it, grab your kid(s)/spouse, snowman, whoever, grab your camera and a blank sign and get snapping! I bet you can have your card ready to go before you know it! Do share—we LOVE to see your work in our gallery.
Since I'm in a festive mood, I'm also going to share a QP of a LO I did about my girl's love of holiday candy, especially candy canes.  The journalling reads, "first candy cane of the year. Wait, I mean second. Third…? We're going to have a hard time keeping ANY on the tree, aren't we."
Here you go! Enjoy (preview is clickable) *** SORRY, LINKS HAVE EXPIRED***
I hope your holidays are sweet!