Good morning, Weedsters! I hope everyone had a great weekend.  I am here with your Monday Challenge for this week.
My daughter, Victoria, just turned 8 last week.  
So, I figured I would give you a challenge in honor of her birthday.
The challenge is CRAZY EIGHTS
Make a scrapbooking page that includes 8 of one type of item.   The 8 items do not have to be all the same. 
So you can use 8 different (or same) flowers, buttons, staples, ribbons, papers, whatever you would like. 
I will leave that up to you.
Here is a Layout I created of my daughter at our church's Vacation Bible School two weeks ago.
In this layout, I used 8 flowers.
Credits: All Weeds and Wildflowers: Spreading Cheer by Gina Marie Huff, Follow Your Bliss  – WW Collaboration,
Shabby Fall Garden by Gina Marie Huff, All Better Me by Gina Marie Huff, Breath of Fresh Air by Gina Marie Huff,
Template:  CFran – SBG; Fonts:  Teacher's Pet, Typewriter Condensed Demi; Photo Effect – Pioneer Woman's Heartland;
 So, show me what you can do with 8!
To earn a Petal Point:
1. create a LO using at lest 80% Weeds and Wildflowers product,
2. upload it to our challenge gallery,
3. and post it in our forum in the Monday, June 27th challenge post.
4.  all before Midnight, July 10, E.S.T.
Don't know what a Petal Point is?  Here are some more details about our Petal Points system.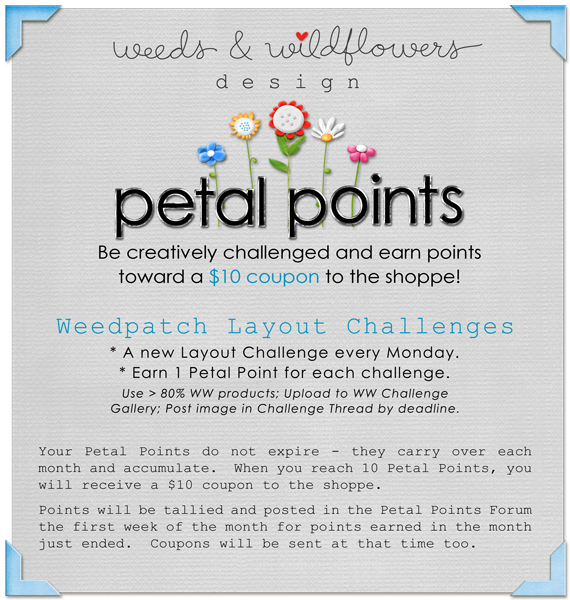 I can't wait to see what you come up with!