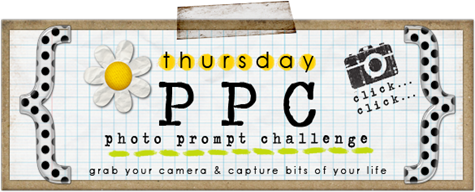 A few weeks back I stumbled across a fabulous photo prompt idea from Ali Edwards. I loved it so that I decided I have to include it here as a PPC.
I love using large photos on my layouts and therefore often have a dilemma of where to fit in the title and/ or journaling. Ali's suggestion was to actually take a photo where you make sure you have a nice blank space somewhere for your journaling or title.
You could have a space on the side, underneath, above or around the subject. Simply be creative and think before capturing the shot.
So with this in mind, your PPC, should you choose to take it on, is to take a photograph, leaving a blank area for journaling or a title.
Remember that you want your space to be uncluttered so your journaling will stand out.
If your background is a little busy, a good idea would be to have your subject positioned a way away from the background. You need to stand far enough away so you can zoom into your subject, thus creating a bit of a  "bokeh" (blur) effect on the background. Play around with this to see the various effects you can create depending on the background.
A blank wall is always a great 'space' to use for your journaling. An old, distressed peeling paint wall would be even better in my opinion! There are so many possibilities here that you can even use the floor, the grass, the sky…
Have fun!