Some who got the free template for the cover of LIFE 365 wanted to add a true reflection on their layout and not the black gradient version that is on there. There is no easy clip to do it for you...but you can do it EASY yourself! :)
Here you go...this is the cover before adding any reflection...in the layers palette go and get all the 2009 and things you have clipped to it and have it in blue ... do this by clicking the lowest layer then hold SHIFT and then click on the hightest layer (if all your layers are side by side with nothing else in between that have the 2009 images and goodies) OR if you have other things tucked in there then hold COMMAND or CONTROL (whatever you use on PCs to pick just a thing here or there) and then click on each layer you want to include in the merge one by one keeping COMMAND held down...you will see all of mine to the right in blue here...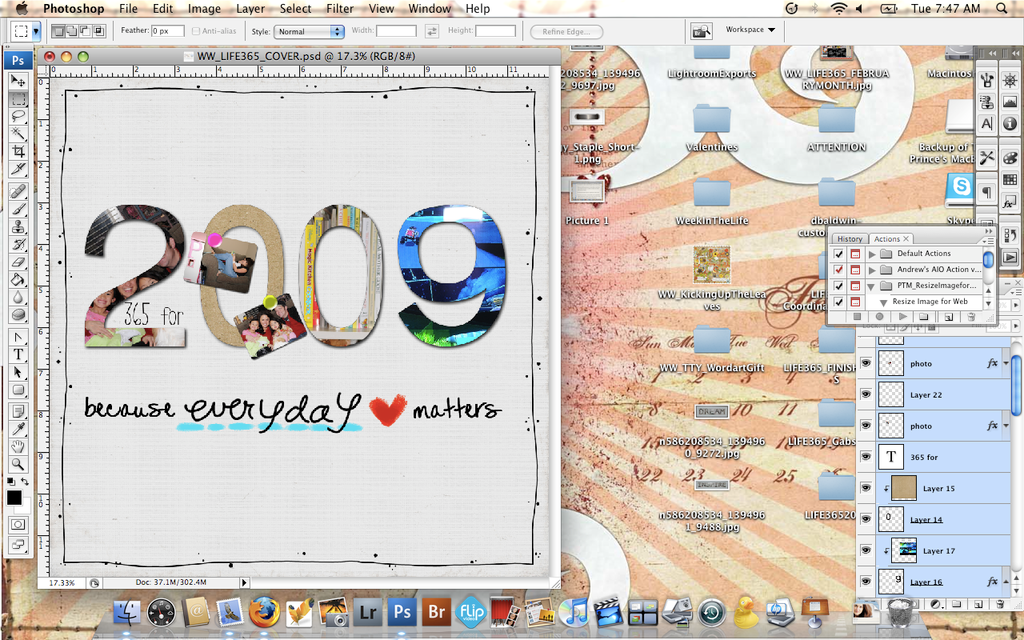 then I do COMMAND E (again for PC there may be another shortcut key you need to use with E) or you can go to LAYER - MERGE LAYERS
now we have all that there on one layer and we want to make a copy of that layer to use for the reflection so go to LAYER - DUPLICATE LAYER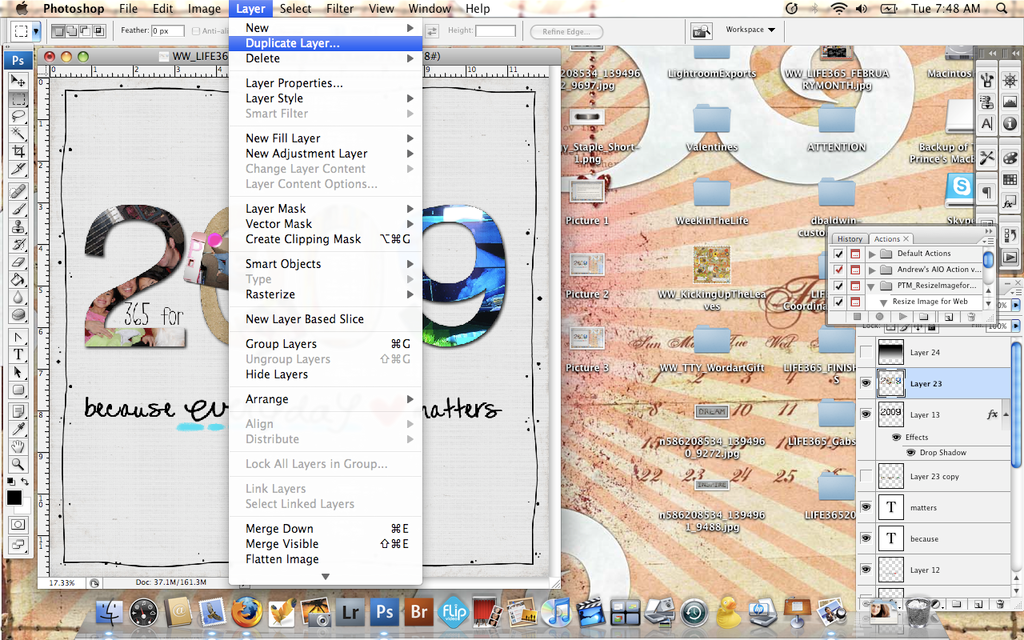 this little box will come up and just hit enter or title it REFLECTION if you want...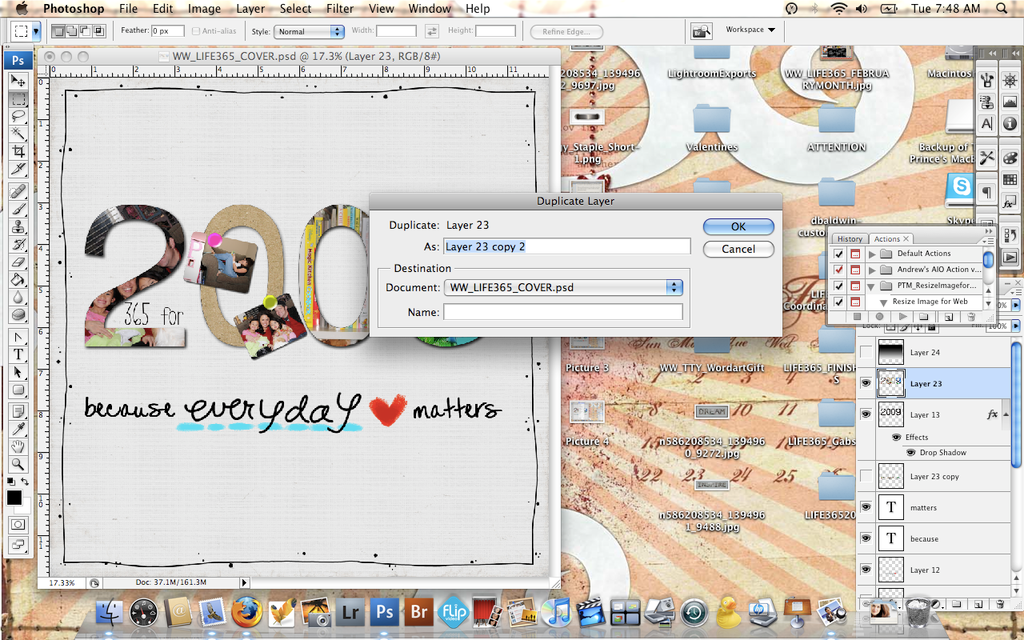 there it is your exact copy is there waiting for the relfection fun!
the first step in making a reflection is flipping that layer so go to EDIT - TRANSFORM - FLIP VERTICAL to turn it upside down...
there you go...it is upside down...
now go to your move tool...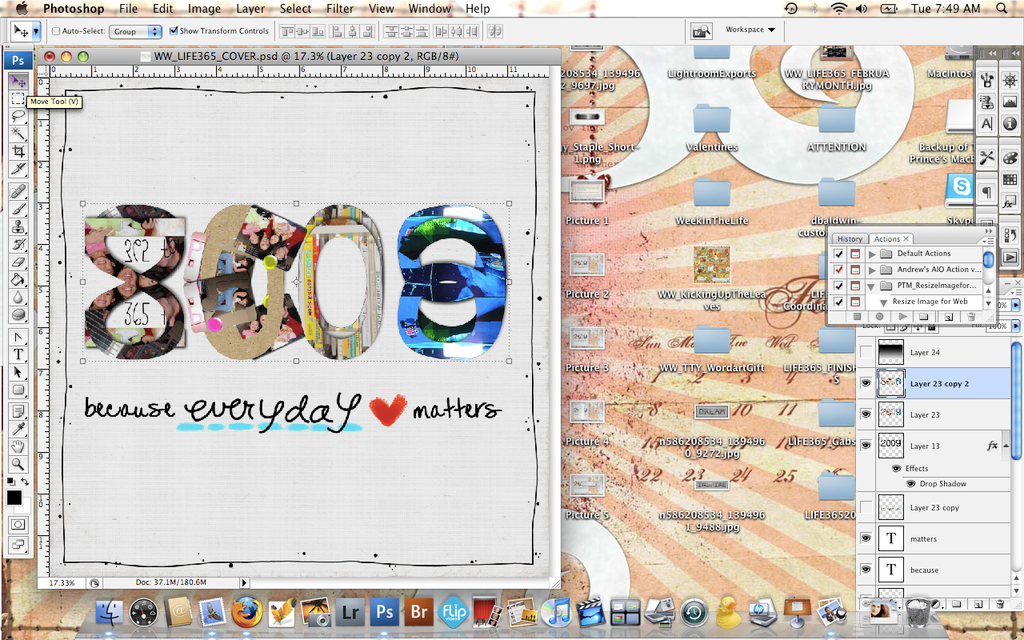 and drag this directly beneath your 2009 that you originally flattened on the layout...you see it coming together??? :)
we want the reflection layer to be underneath the main 2009 image layer so in your layers palette drag your copy or reflection down one layer...you will be able to see this small difference on the first 0 with the picture there on the bottom...it will now be underneath on the bottom...
now to make it look like a reflection go into the layers palette on the right and with your reflection layer blue, adjust OPACITY there in the top right of the layers palette...
next we need to erase a little of this off so go and get your eraser tool...
grab a soft round eraser...
then just move around the parts you want to take off softly erasing them...you can adjust the size of your eraser brush once you have picked it and are working on your layout but using the left square bracket to make your brush smaller and the right square bracket to make it larger...
and you have your own reflection...that you did all yourself!!!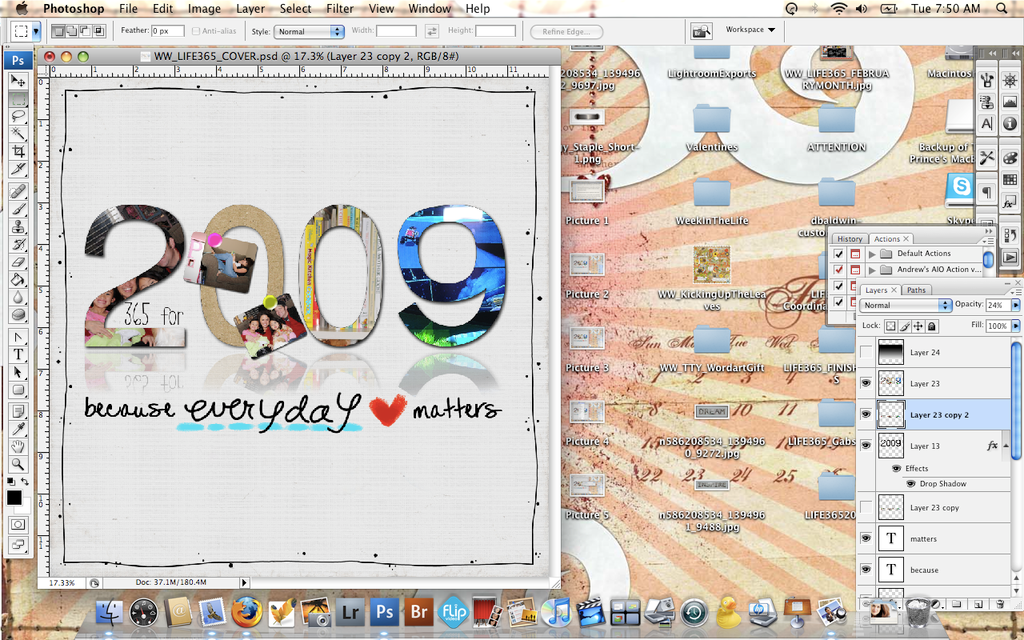 Thanks so much for stopping in! See you next Tuesday with another Tuesday Tip, Trick or Tutorial!!!! and lots in between in the forum sharing :)
(((hugs)))
Teresa