so I made my page for Valentines Day and soooo loved this element wordart, Feeling the LOVE...I pulled it over and everywhere in my layout was dark so the black text was not going to show up...this happened to me the day before using the oh so cool word art, VALENTINE on a page...I was putting it over a blackboard so the blacks did not show on there...I needed to make the black text white....and on that one it was in the element itself so I could not just marque loop the text part and then make a new layer and add a color overlay to it. If that made sense to you right there...that is an option for this particular word art that I am using to teach this with but follow along so you can learn this trick and then you will know the times you need to use it and this will work no matter how close your color is to other colors.
here is what I want to use...
here it is on my layout...see how you see love but not the feelin the and hearts part...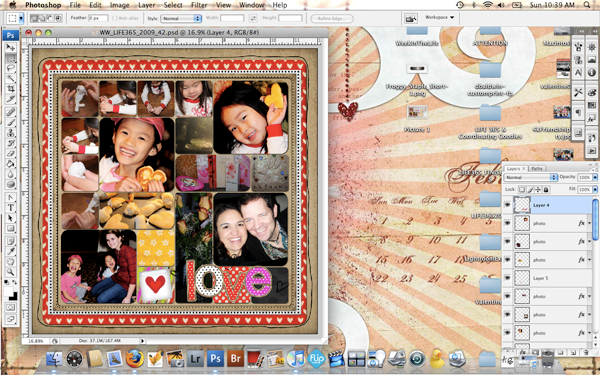 before you do anything...we are going to be changing all the black parts of this to white....well we want to keep these cute black dots so to do that...use your marquee tool and make a circle or a square around the O then do COMMAND J and copy that portion to a new layer...
I am turning off the main element layer just to show you what part I copied to save the black dots...
leave that layer alone now and go back to your main element layer and do this...
with your element layer picked go to IMAGE then ADJUSTMENTS and then REPLACE COLOR...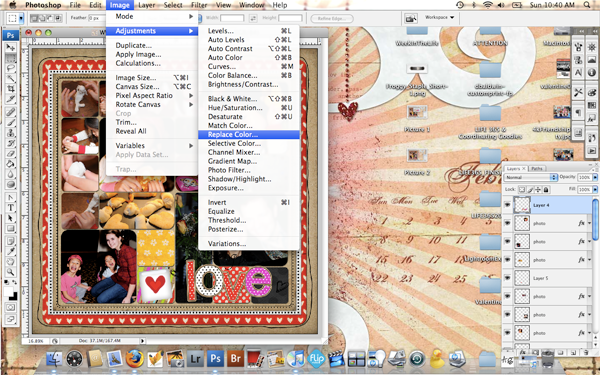 this comes up...the top color box is the color that you want to change...click in that box...
you get this Select target color box...the easiest thing to do is move over to your layout while that box is up and you will get a color dropper....touch that down and click on the color in your layout that you want to change...for me on this element I want to change the black...then hit OK
then we want to click in the replacement box...you will see your changes real time on your element as you pick what color you want to change it to...
and there...it is much easier to see now with white instead of black :)
Have fun trying this trick...ask any questions if you run into a challenge. See you next week with another tip, trick, tutorial :)