So several of you have wanted to know how we get rounded corners on our photos...I had that question too for a long time! It is super easy and you will be able to do so much more than just round your photo corners by learning this fun trick!
Let me first show you where to find your shapes...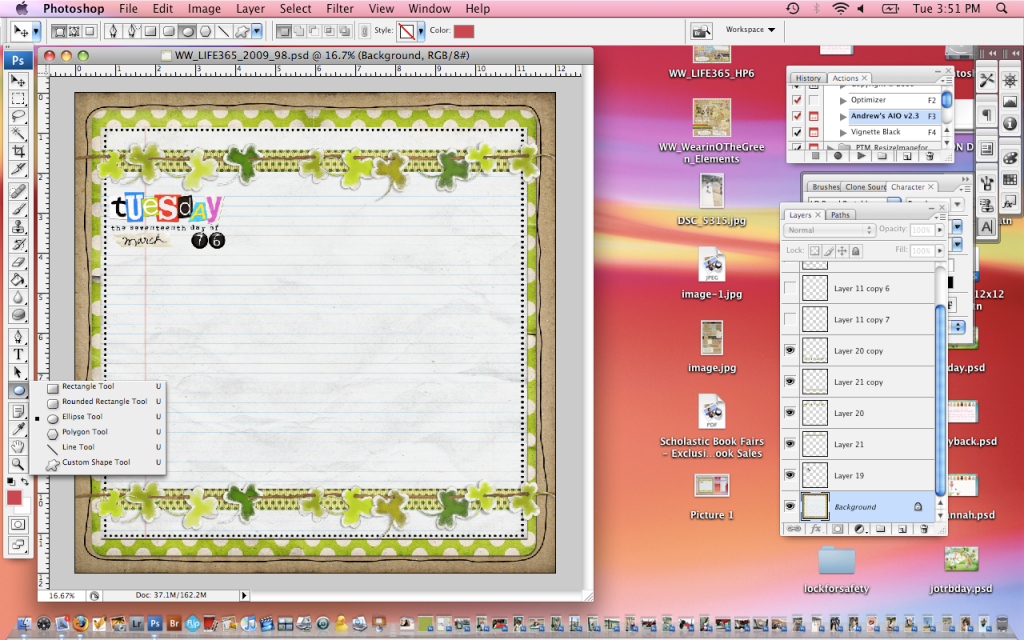 I am picking Custom because if you can play with the custom shapes the others are no brainers :) Once you click on the Custom Shape look to the top of your screen here...
See that small arrow in the upper right? Click there...
ALL of my preset Photoshop shapes are not showing so I went here to be sure that I was seeing everything that Photoshop had waiting for me...
Well I could just not leave well enough alone so I went to GOOGLE to see what free shapes were out there for us to play with! Here are a few that I found right away...
http://www.adobe.com/cfusion/exchange/i ... -1&cat=199
http://www.smashingmagazine.com/2008/12 ... om-shapes/
http://www.freephotoshop.com/html/free_shapes.html
then it hit me that today is St. Patrick's Day and we need a shamrock to play with so you can find that HERE:
http://graphicssoft.about.com/od/photos ... cksday.htm
OK...so you may have found some you liked and have them sitting in your downloads folder...if you aren't downloading any...no worries we are done with this extra little rabbit trail soon and will get to what you are waiting for.
You load them with that small arrow that was in the upper right of your shapes box up on top...disclaimer...with Actions I always load them to my presets folder for Actions and then load them from there...I put my csh (Custom Shapes Files) in the preset for Custom Shapes but for some reason I could not access my APPLICATIONS file to get down to those. Being impatient I just moved them out onto my desktop in a folder I named shapes and loaded them from there. So if you can do it from your presets then do that but I am too impatient and want to keep it fun and easy so I kept moving! :)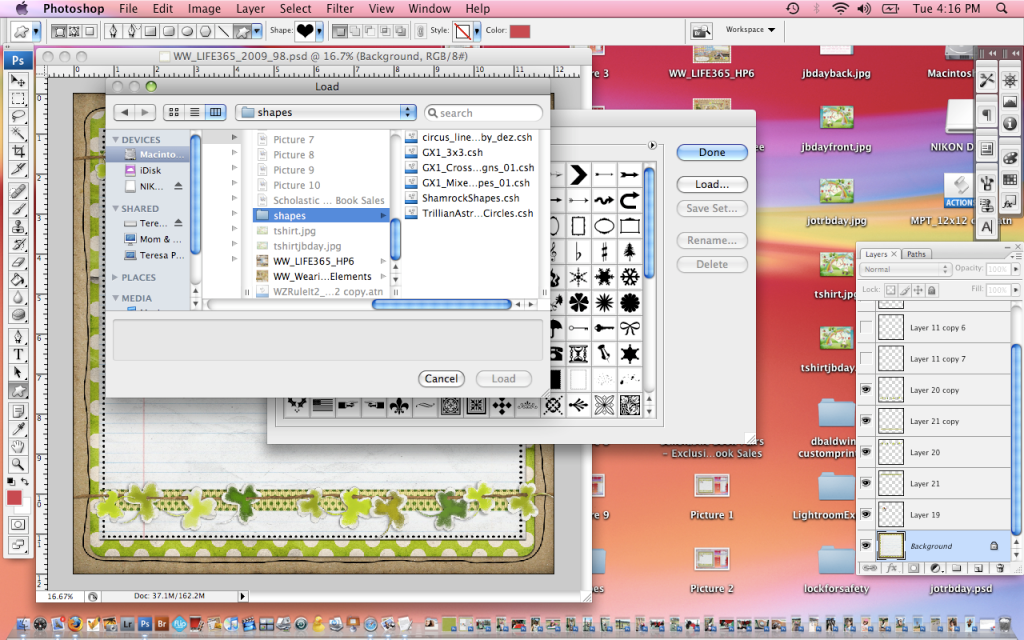 So you see what I downloaded...some retro circles and the shamrocks :)
I highlighted them all in blue and loaded them all at once and then this was my new custom shapes box options...
So I clicked on one of the retro circles I wanted to play with and put that on my layout...see it here in red. I opened a picture that I wanted to clip on top of it and we are ready to play!
Drag the photo layer into your layout file and if you are clicked on the shape on your layout file before you drag your picture over it will plop the photo layer just on top of the shape layer which is right where you need it!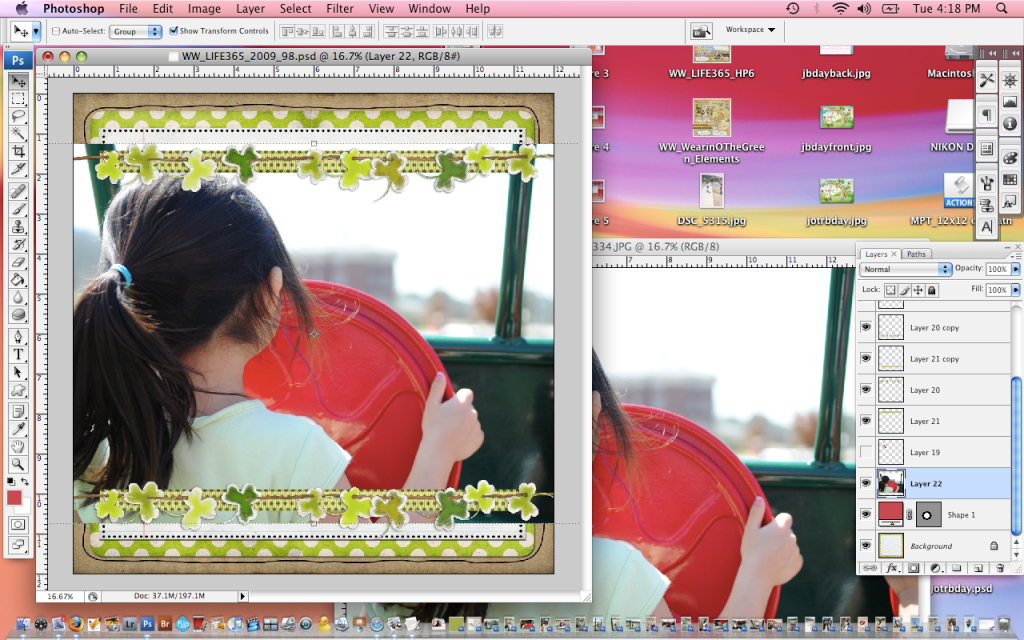 then do COMMAND OPTION G on a Mac...for Windows search Help for Create Clipping Mask to find out exactly what shortcut to use. Or go the long way doing Layer - Create Clipping Mask and then your picture is now the size of the shape you clipped it to...
now once it is clipped you can resize and rotate the picture however you want to get it to fit and have it positioned just how you want it.
I do COMMAND (CONTROL for Windows) and ZERO to see all the sizing area ... this way I can get to the corners of the picture so I can pull it in to the size it needs to be :)
I hold SHIFT and move in from the corners but I am using CS3...if you are using Elements the word is that you just grab the corners and skip holding SHIFT and it will keep the proportions of your photo for you as you make it smaller.
So I have it sized how I want...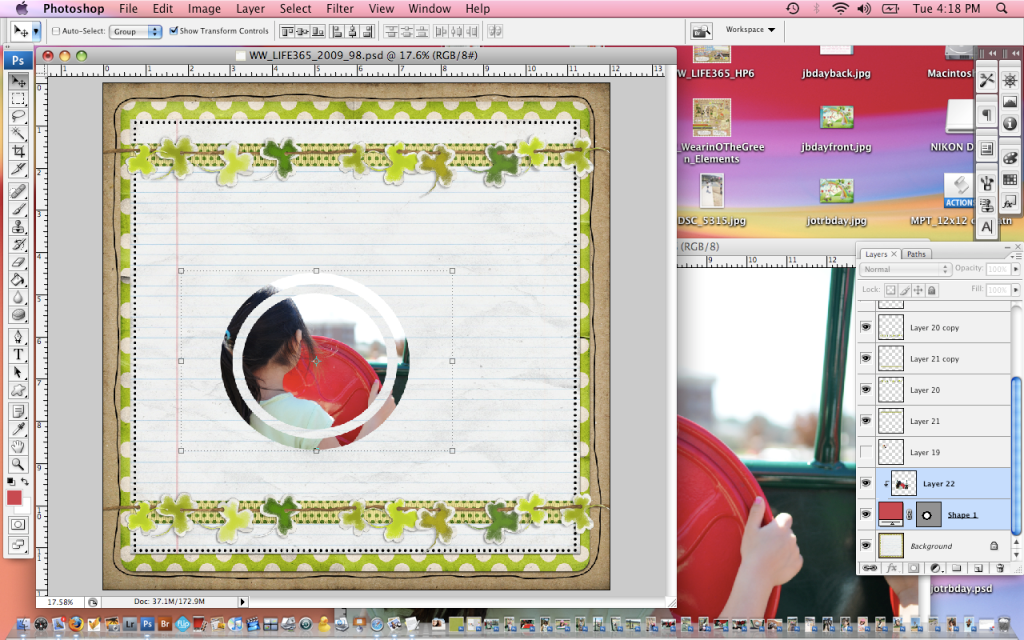 Now I go and play and repeat this with different custom shapes and using papers to make the cluster more fun :)
Did you see the SHAMROCK on there? All of that was added using the exact steps I just taught you :)
But what about those rounded corners that many of you want for you photos??? Here we go...you could figure it out I am sure from what you now know about shapes BUT... I go back to shapes on the left and instead of picking the Custom Shape Blob I choose the Rounded Rectangle Tool and add it to my page.
Now here is another rabbit chasing extra but it is a workaround I have used a few times this month with photos that are vertical but I need them to fit in a horizontal spot on a template :) I grab a paper that coordinates and position it over just part of the shape...
then clip it down to the image (I forgot to take a picture of this) but you can imagine where the paper was over the layout and a part of the shape once I clip it to the shape it is now only showing on the part of the shape it was on top of...
then I pull in my image to add on there...it is just above the paper that is clipped to the shape.
If you drag it between the shape layer and the paper that you just put along the edge...it will automatically clip in there...
now resize to fit it in there the way you want it...
and you have a photo with rounded corners and a little paper extra just for style
Have fun playing with shapes and your photos! Can't wait to see some of these turning up in your already fantastic layouts!
Have a great Tuesday!
We don't have anything scheduled yet for next week so go and give any suggestions if there are things hanging you up or extra fun tricks you want to learn!
(((hugs)))
Teresa