Hello all, hope you are having a great week so far..  We finally have gotten some snow here and it is cooold!!  A great excuse to have a cozy day at home, right? 🙂
So I thought I would pop in to announce the winners of the Tiny 10 post below, thank you all for leaving such nice comments 🙂  Using the RNG the winners are…….. #5 and #12!!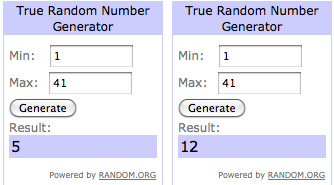 Congratulations Carolyn and Jean.. I will be emailing you to ask which Tiny 10 you would like to have..  Hope you have fun with your new goodies!
Also, before I go I wanted to let you know this is the week (hopefully!) that I am having some work done on the site so if it goes down for a while or things look kinda funny, just bear with us and excuse our dust..  The forum and gallery will be fixed, and things will look a little differently around here (hopefully for the better) and I just wanted to give you a heads up for that.  I am planning on releasing another Tiny 10 this weekend, and also another new something (if it works out) so don't forget to stop by. 🙂
Thanks so much and have a wonderful week!!  xo Gina