Happy Tuesday!!! Many of our tutorials are being requested from our LIFE365 crew so many will be done with that collection and project as an example but it translates to regular scrapping fun too! AND if you are not doing LIFE 365 but still have something you want to learn….let us know and we are happy to share it (if I or someone I know knows how) here!
One more thing…our tutorials are going to be in the forum but I will show you here what you can learn if you head on over there!!!
Many of us are adding dates to our LIFE365 monthly summaries or our regular weekly pages and they are on a single .png file.  This tutorial teaches you how to add them all at once and move them around on your page instead of copying each one one at a time and dragging it over…this will be a fun timesaver.  If any of you had seen this page in my gallery you know there were no dates and days because it was taking a long time and I was/ AM determined to keep this fun, fast and easy.  I was soo excited to come up with this so I can have my cake and eat it too "so to speak" I get to still work fast, fun and easy AND get all these extra great details that I just love!!!  OK enough rambling from me!
Here is my finished page…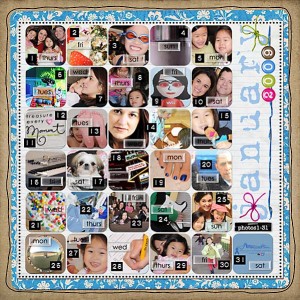 Join us in the forum HERE to learn this trick!
See you next week!!!
(((hugs)))