Happy Wednesday, Weedsters! Paula here and I have a fun little surprise for you. I've re-created a new cover for your Life 365 Album for 2010 & 2011. The tutorial for how to use the cover can be found here.
And – I've created a super fun template that holds 365 photos. It can even hold 366 if you remove one of the small word arts. The trick for using this template – update it monthly as you create monthly summaries or it takes FOREVER to do at the end of the year. A word of caution – this is a BIG file – safe often. I've also added dates & day numbers for the last photo of the row to help you stay on track with inserting your 365 photos. Simply turn the date layer off or delete when it comes to printing.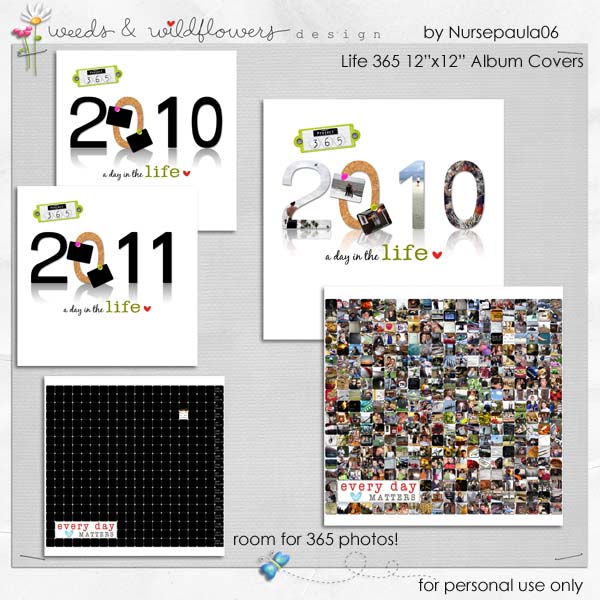 Click here to download. Covers are in psd format.
Marketa is also offering up her album covers once again that she originally posted for the 12 days of Christmas.
In 12″×12″ square version
and in 8.5″x11″ letter version
You may remember her summer post that brought you the bookcover for the first six months of this year. Since then Gina has completed another six fabulous collections and today there are three bookcovers ready to complete your great collection of memories you have taken and put down through this year. The half-year covers are using two papers per each monthly kit, the full year cover is made with one paper per month, usually starring the dominant color of the respective month. The design was completed by letters from with Cherishing Every Moment Alpha and a frame from Life365 collection. The font used is a free font called Susie's Hand.
Let me show you a closer lookup. I love the brights of the beginning of the year, all joyous and full of energy:
I admire the calm colors of the second half of the year:
And I was surprised how balanced the whole year collection looks when placed together:
You can download the 12×12 version here and the 8.5×11 version here. For those spelling "colour" there is another 12×12 version available here.
And mega bonus – I've created a simple calendar for you to use using www.timeanddate.com/calendar. This calendar makes it easy to see what date of the year you are on. For example: August 15 is day #227. It will save you a big headache of re-numbering in case you get "off". The calendar is included in the download for the 2010 & 2011 covers.
I hope you enjoy these freebies from us and get some use out of them.