Hi everyone….
This has been a crazy week for me…I hope yours is going better than mine.
Are you doing anything special today?
I think it will be a fairly normal day for me…I have a few little things for my hubby and kids and I made heart shaped rice krispie treats for dessert.  This is a tradition that I started the first valentine's day after my son was born.
When I was deciding what to do for a challenge today.  I had a few things in mind, but as I sat down to write them up none of them were working…so I went over to my pinterest board to see if I could find some inspiration.  I noticed a trend in the things I have been pinning lately.  They all had things lined up on one side of the page or card.

All of these pictures are on one of our new pinterest boards.  Here is a link for it. If you want source information.
Don't forget to follow us while you are there.
My challenge to you is to make a line of 4 or more of the same thing down one side of your page.  It can be  hearts… birds…or even  pictures like in my examples…or whatever you are inspired to use.
You have until the end of the month to complete this challenge and there will be a $5 coupon for one person who completes the challenge.
Just upload your page to the Challenge Gallery and put the page and the link to your page in this thread in the forum.
One last thing…I have a set of Valentines cards for you…They are the same size as the simple squares…so you can personalize them and print them to pass out or you can use them on your Life in a box pages.  I had so much fun making them up.
I used mostly tiny 10's Gina put out last year.
I love the Tiny 10's!!! I have been pulling them out to embellish my Life in a box pages and I even combined one of them with one of the sweet and simple kits recently. I love how all of Gina's kits coordinate so well you can go back and mix and match them.
Just click on the preview to download them in the shoppe!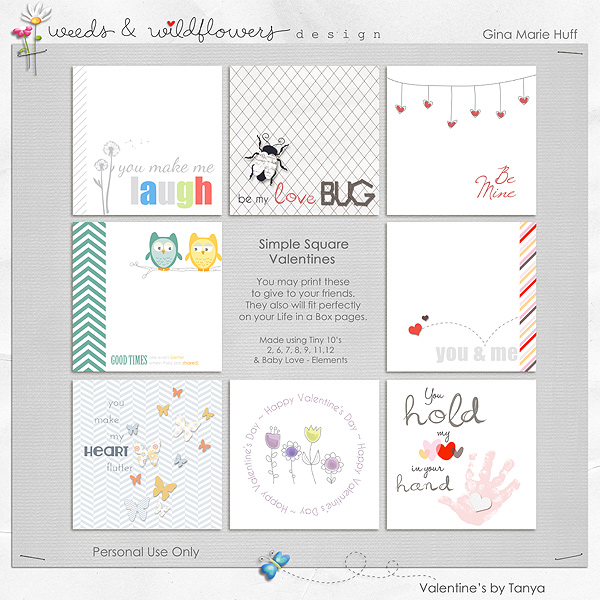 Have a great Valentine's Day!!!