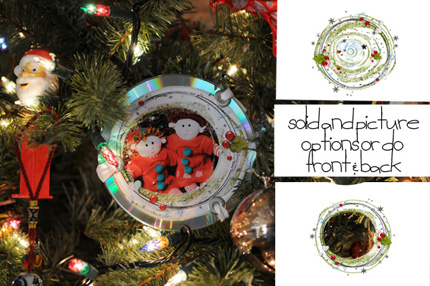 Hello Weedsters 🙂 OK…my fun was something hybrid AND it is the day before our days have official titles- Christmas Eve, Christmas Day, Boxing Day!!!! OK who has time for hybrid fun this close to Christmas??? We all do for this! All you HAVE to do is get a picture of all the loved ones you share this precious time of year with…a face shot! Then when the presents are unwrapped and everyone is off doing what they love and you are settling in to scrap like you love!!! Just drop the face photos into the .png frame file, print off a sheet of the solids for the back and make some ornaments to give your tree a fresh extra smile until you take it down…then next year you can pull out these ornaments and enjoy how much everyone has changed and remembering 2008!
That is my plan and since I could not wait to get those pictures and give this to you! I took a picture of our girls much loved elves and this ornament has already become a favorite! My oldest asked if we could add that every year to remember the year our elves first came to visit us. 
Now this project can be as simple as printing the two sheets or if you want these solid with no photos, printing just the solids sheet you will see in the download, cutting out the two circles, pasting or gluing them together- you can be done! If you have a Crop-O-Dile or Big Bite and some CDs lying around you can add one more step and that is what I did here… I punched holes through the paper and the CD so I could add a ribbon tie, meant to be the hanger but that did not line up the way I had hoped and since we are keeping this fun and EASY I just went with it!!!
I hope you will give this a try and enjoy one more way to treasure the memories of this special time of year spent with those that you love!
Download Here:* sorry link expired*
'Also, the Blog Gifts Days 16-20 are now available in the shoppe for those of you that might have missed them HERE!  Thanks for stopping by! Tomorrow another great freebie will be here waiting!