Hi, Tiff here with a little home project to share with you.  I had two large 19×23 frames on hand, and I wanted to use my scrapbooking supplies to make some nice prints to hang on the wall.  Originally, I wanted to print four 5×7 prints of trees representing the four seasons, and I would place them into the frames with mats.  Each mat would have two 5×7 cutouts to show the prints.
When I went to my local university art store, however, I found that although I could have the mats cut to the size of the frame, they could not cut the openings for me.  And having the mats cut at Michaels was cost prohibitive.  So I came up with a digi solution!  I have frequently printed 12×12 layouts at Costco, and I knew that they can make prints in the warehouse up to 20×30 inches.  So I decided to design the entire print instead of using a mat.
I decided on:
A simple cardstock background.  I stretched the paper to 20 inches, and duplicated it to fill the space.  Where the layers overlapped, I used a soft brush to erase the top layer and create a seamless background.  Even stretched to 20 inches, the digi-paper still looks good when printed.
Leaves of different colors  represent the seasons.
A simple white border frames each tree.
I had to carefully measure and trim the prints to fit in the frames.
Tree Template by Manda Girl.
Various papers from Weeds and Wildflower kits.
Here is the image representing Fall and Winter, and two photos of the prints in my otherwise very plain bedroom.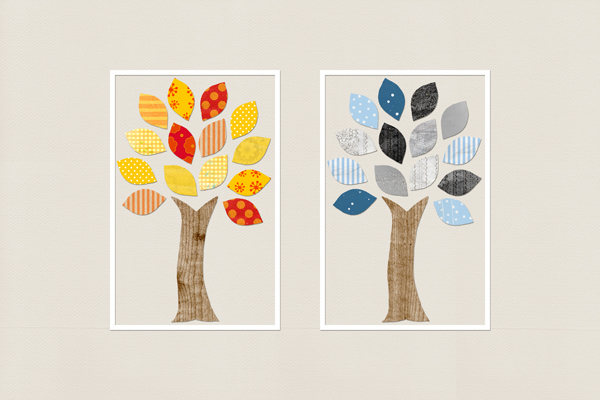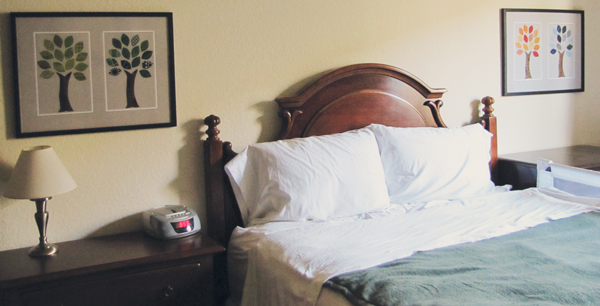 I'm quite happy with them! I'm not interested in hybrid scrapping projects, but making nice prints to slip into a frame is right up my alley! Knowing that I can get large inexpensive prints made through Costco opens up so many options for me. You might like to give it a try too!
Tiffany