Have you already been to the shoppe today?? Well then you must have noticed some new goodies!!!
Gina made two additional frame packs to the LIFE 365 collection and I love them. Let me show you….' Frame it'
 'Frame it -1' & 'Frame it -2' are now available and 20% off!
Designed to work like puzzle pieces with the entire collection, these frames follow the color scheme of the 'LIFE 365' TOOLBOX and are so versatile and fun to frame your daily/weekly photos and memories! They are sized to fit the LIFE 365 photo blocks perfectly! Each pack comes with 10 frames in various styles and colors like: acrylic, craft paper, cardboard, some in metal and well there's more…
You can also get these packs in a combo and save some extra $$, you can get the combo pack here.
Then Gina also released 'Hodge podge pack #10' Also 20% off this weekend only!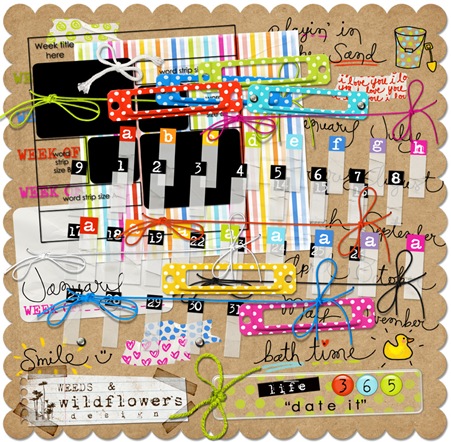 A random mix of digital wordart, attachers, date stickers, ribbons, frames, borders, papers, flowers, and other elements that all coordinate with your LIFE 365 Collection! Collect these and you will have a neverending supply to add to your LIFE 365 yearbook! Scrapping will never get boring with these eclectic add-ons as you focus on your photos and the story of your life!
For the ladies not formiliar with our 2 week incentive program, listen up: Gina gives a fun hodge podge pack like this one, away every other week to everyone who plays the little incentive. So that means you'll get a fun add-on to the LIFE 365 collection when playing along…for FREE!! You can read more about it here in our forum!!
And last but not least Pat is having a sale on her entire 'Dreaming of you' kit… This weekend ONLY you'll save 50% when buying this beautiful kit!!!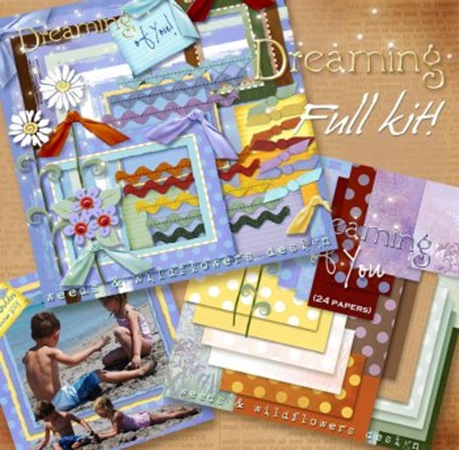 'Dreaming of you' -As you would expect by the title, includes two dozen dreamy papers designed for soft or bold layouts depending on what would best compliment your photos! Please see the sample layouts below – one is subdued and soft, the other bold and sunny! Also, included in the full kit option are the bright and happy embellishments to cheer any layout!
Now before I'm leaving Gina told me I could give away some of these frame packs… So I'll be giving away a set of each of these two frame packs AND a set of the combo pack!!! So three lucky ladies could win a fun new goodie!!! All you gotta do is:
Tell what fun things you're up to this weekend and how you plan to record these fun happenings… Like are you playing the LIFE 365 project or are you just going to scrap any of the photos you're going to take this weekend?? 🙂
Announcement!!! The winners are:
'Frame it -1' : Ann
'Frame it -2' : Sharon shutterbug
'Frame it – 1&2' : Starla
Congrats ladies and I'll contact you this week with your price!!!
Sunday night I'll randomly pick three winners! See you then! -x-