Whenever a visit the gallery and  find something that is really 'moving', I add them into my favourites! And every now and then when I lose inspiration, I look at them. Today I will be putting on the 'spotlight' one of my most favourite layout!
FRIENDS by Antje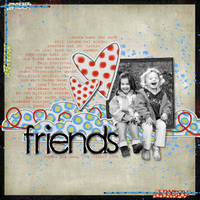 Check out her gallery here to see more of her work!
 https://www.weedsandwildflowersdesign.com/gallery/showgallery.php?cat=500&ppuser=346
I hope you find some inspirations for your layouts!!