I hope everyone had a great weekend.  I am getting to enjoy a nice long weekend since it is Memorial Day .  It was kinda nice this morning to tell my husband it was his turn to get up with the baby while I got a little extra sleep.
I was curious of the story behind Memorial day when I looked it up it was started after the civil war to commemorate the soldiers who gave all.  It was originally known as "Decoration Day"  and graves were decorated with flowers…Today it is not just to honor soldiers, but any loved one who has died.
My dad and I were talking a couple of days ago…and he told me that it had been 45 years that day since his dad passed away.  I went looking for some pictures of his dad and this is the page that just seemed to make it's self as I was looking at the pictures.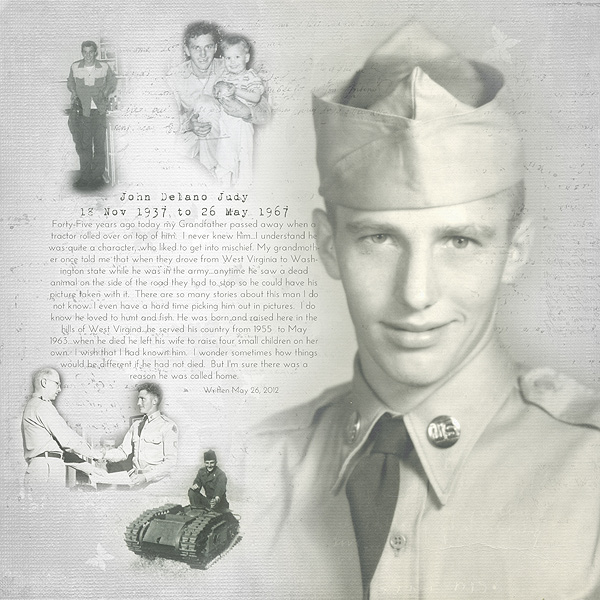 So my Challenge to you today is to make a page in honor of a loved one, and to include at least one blended picture.
If this is not something you know how to do…you can find a great tutorial here.  I will just add that after I add a layer mask to the photo.   I often use a large soft brush to remove the areas of the photo I don't want to see and then adjust the opacity of the layer to make it look the way I want it to.  If you have any questions don't hesitate to ask…I will be glad to help you.
To earn a Petal Point:
1. Make a layout using at least 80% Weeds & Wildflowers products in your layout
2. Upload your layout to our Gallery, under the Challenge Gallery category
3. Come back to this thread and post the image
4. Before Midnight EST…Monday, June 11th
Don't know what a Petal Point is?  Here are some more details about our Petal Points system.