Hi Girls,
Hellooo girls…I know you alll have been waiting for me..did you all have a great weekend? We had wonderful days…so sunny, we even could drink our coffee outside..and it felt good after the long, cold winter! Thanks for all your lovely comments…I guess Gina loved reading them… 🙂 I just randomly picked 4 winners……………
Say it messy  …………… Nancy79
Papers 2 …………………. Helen
Painted borders ………… Angie
Notebook brights ……… Scrappykate
Congratulations girls…the coupon codes will be sent to you! Thanks for playing and have a wonderful evening!
Miranda here bringing you some great new goodies and some great sales!!
Gina did it again…she worked hard to get it all ready for you this weekend! I'll show you what she made….
"LIFE 365 – Say It Messy 1" – Designed to work like puzzle pieces with the entire collection, these fun and messy word art will add the finishing touch to your layouts! Whimsical and just a little messy, you will find these so fun to just throw on your pages to make a statement! 40 different, hand drawn, messy, doodly phrases or words in plain black writing, also included are a chalked, highlighted/doodled version (with random LIFE 365 colors) of the same 40 words/phrases!
'
"LIFE 365 – Papers 2 & LIFE 365 – Painted borders" Created by popular demand, here are some new add-on papers for your LIFE 365 albums! Now you will have even more craft and white paper backgrounds for your LIFE 365 albums!
Also available are 2 versions of some BONUS painted borders in 11 colors each, that will compliment the plain papers wonderfully and add a splash of color. They are so fun and easy, you will love them!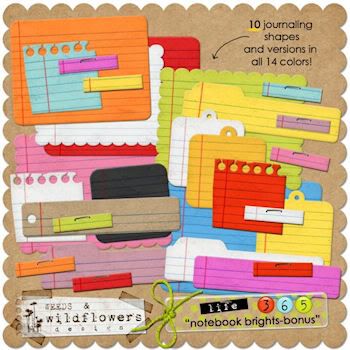 "LIFE 365 – Notebook Brights & Wordstrips" – Here are some new add-on papers for your LIFE 365 albums! Using the white notebook paper in the original LIFE 365 papers kit, (also included in this pack) I created 13 additional brightly colored pages that match the colors in the collection. These digital papers will stand out and bring a beautiful pop to your pages!
Also included are journaling blocks and wordstrips in 10 different shapes and versions of each color as a bonus! These will save you time as you are creating your pages! They will fit right into the templates (sold separately)in the designated and labeled spots.
Sooo girls..what do you think….great goodies..aren't they….and Gina told me I could give away one of each..so just leave a comment here in this blogpost and I will randomly pick winners Sunday evening.
I also want to ask your attention for couple other sales going on in the shoppe to – for 50% off… those and the new releases on sale until Tuesday night… you should not miss those!!!
Now…I am off to download the new goodies…I will be back tomorrow evening anouncing the winners…wishing you all a wonderful weekend! Hugs,
Miranda