Hi there everyone! I have been MIA due to my internet and having been away over Easter, but I'm back again and, as they say, "in full swing".
Hope you all enjoyed your Easter and didn't overdose on those chocolate eggs too much! My kids had such fun hunting for eggs early on Sunday morning-still in their PJ's. When I suggested they get dressed before the hunt, they both declared that egg hunting would not be the same unless done in your PJ's! Gotta love that!
It was also my birthday on 1st April (yip, on Aprils Fool's Day LOL!), so I decided to give away a little Easter freebie too.. CLICK HERE to download the Easter cluster featured here in this post. I used a stack of different W&W's products to make it :  Just Earthy; Life 365 polka-dot papers & Delightful Afternoon & Happy Garden Have fun with it!
And this week's PPC :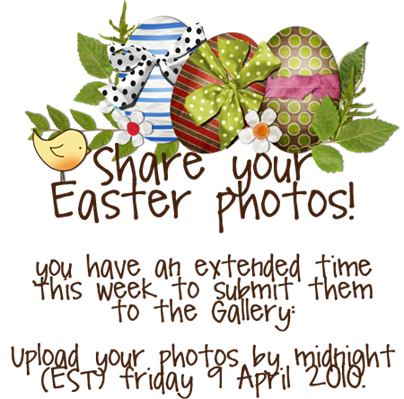 Remember to upload your "Easter" photo to the Challenge Gallery, then post a link to your photo here in the forum by Friday 9 April 2010.
Check back here on Thursday 8th April for PPC 12/2010!
EDIT : OOPS- I slipped up here! Apologies to those who don't celebrate Easter! You can simply send in a photo of something you did over the weekend.