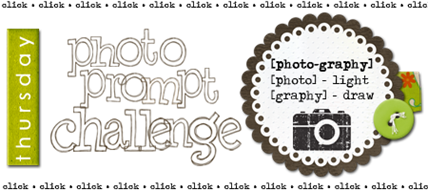 Hi there! Sorry this is a little later than usual, but I've had bit of a busy day. My car's central locking system literally blew a fuse so I had to go get that fixed as there's no way I could go anywhere and leave the car unlocked. Then of course this afternoon was me playing mom's taxi (as usual).
Hope you're all having a good week and keeping up with taking your photos. I'm very motivated this year and determined to keep up. What better way to keep up than with some photo inspiration?
This week we're going to get QUIRKY! Let's do something a bit different! Take a photo of someone but break some rules and add some fun! Try to make it more than just a photo – make it depict a memory, let the photo tell a story or simply use a different perspective.
Challenge Rule 1 : Your photo must have a person (or persons) in it.
Challenge Rule 2:  Make it Quirky and unusual.
Don't you love photos that make you take another glance? Photos that just have something different in them that catches and holds your eye. Remember it's still a photo for your 365 Project, so make it something that's still personal to you and a photo that you like.
Here are a few ideas to spark your imagination:
Take a photo from an unusual ANGLE. You can turn your camera;  take a shot while lying down on the ground or standing on a ladder; get down to your subjects' level…
Leave some BLANK SPACE on your photo. Place your subject to the side of your photo, leaving around 2/3rds of the photo "blank". That is, with an uncomplicated background. This is an ideal spot for journaling or adding a quote.
Take a photo of a PORTION of a person! You don't have to have the whole face in the shot or even the whole body. Focus on the hands, or the feet or the eyes. This combined with an unusual angle could make for a fabulous photo.
One thing to keep in mind when taking unusual photos like this is – remember where you want the focus. For e.g. If you want to emphasize someone's hands, for instance, then focus the camera on the hands so that they are crisp, while the rest of the image is slightly out of focus. Play with the depth of field.
Tip: To get a subject in focus, but to the side of our image (not right in the middle where your camera focuses) , first focus on the subject by pressing down on the camera's shutter half way until it is in focus, then keeping your finger on the shutter, move the camera so your subject is where you want them in the image. Now press all the way down. Voilà!
A sharp busy background can also be distracting when photographing people, so concentrate on focusing on the subject. Make your subject stand out by either having very little in the background, or by making sure your background is blurred and your subject is clear and crisp.
Don't just point and shoot, think about what you are photographing.
Although not a portrait, here's an example showing Depth of Field, where I focused on a Bonsai in the foreground, with the hint of a blurred watering can in the background. This is also an example of chopping the subject off, only showing a portion of it.
Here's another one I took of a giraffe drinking at a waterhole. Fortunately we were parked in just the right spot and the giraffe conveniently bent down and drank. I simply seized the opportunity! I love this angle- the giraffe looks so awkward!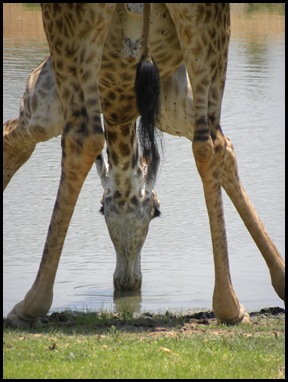 I'll post some quirky portrait photos of my own too once I have tied my little subjects down long enough to take a pic or two! I'm hoping to grab a chance tomorrow.
Hope you enjoy the challenge.
Take a peek HERE to see how the challenge works and how you can earn your petal points! Remember to post a link in the forum HERE to your photo in the Challenge Gallery.