June 15, 2009
Recipe Challenge

Before we get to this week's challenge, I'm happy to announce the winner of last week's template challenge.
Congratulations to Kirstie (kirstiegai)!
You will be getting a PM soon from Suzanne with a GC to the Weeds and Wildflowers Shoppe !
Now for this week's Recipe Challenge!  The garden was my inspiration this week.  I love flowers!  Here is a recipe for you to follow to make your own "garden".
To make your garden:
Take a rich and earthy background paper
Add plenty of greenery
Plant some beautiful flowers in at least 3 colours.
Layer in a framed photo
Add a touch of whimsy with birds, birdhouses, animals, insects, etc.
Now sit back and enjoy the beauty you have created!
Here's a little inspiration from me.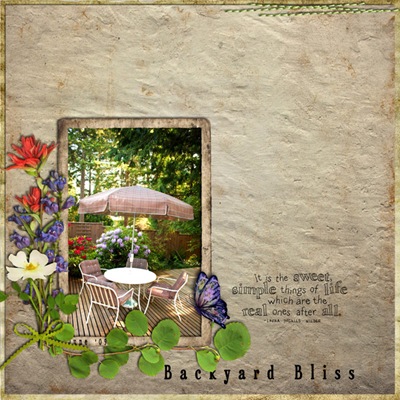 The Rules:
1. 80% of WW Goodies
2. Upload your pages to the WW Challenge Gallery
3. Post back here or at the WW Challenge Forum with a link to your page by Sunday afternoon – 12pm (EDT)
The winner of a $10 GC will be announced in next week's challenge.
Be sure to check out the forum for this week's Life 365 Photo Prompt Challenge #21 hosted by Gabs for a chance to win some shopping $$!!
Good luck and happy scrapping!