we had this request in the forum today:
Hi Tee!
I bought the new Birthday Party collection this past weekend and I am loving it!….I've been able to go in and add birthday filler pages for my 365 book and they match so well with the other pages that I have made.
I am working on my oldest son's b-day pages and I would like to use the alpha that came with the kit, however I would like to be able to use the consonants in colour, not just the vowels. Can you please tell me how to recolour the alpha and still retain 3D look of it? Pretty please???
Here is the alpha she is using and wants to have options to color all the letters…
here you go…it is fun and not hard to do!
open up your alpha page…if you just want to do a letter at a time then marquee and highlight your letter and copy to a new layer…this is helpful if you want to make them each a different color…but to keep it super simple and let lots of you do this if it helps your pages I am showing you the super fast and easy way!
go to Layer then Layer Style and then Color Overlay…
it will automatically cover your letters in this red and you will see your blending option defaults to NORMAL…
you don't want the solid cover…to keep the fab dimension Gina designed into this alpha, go to Blending Options and pick SCREEN…steps shown here and results in the next one…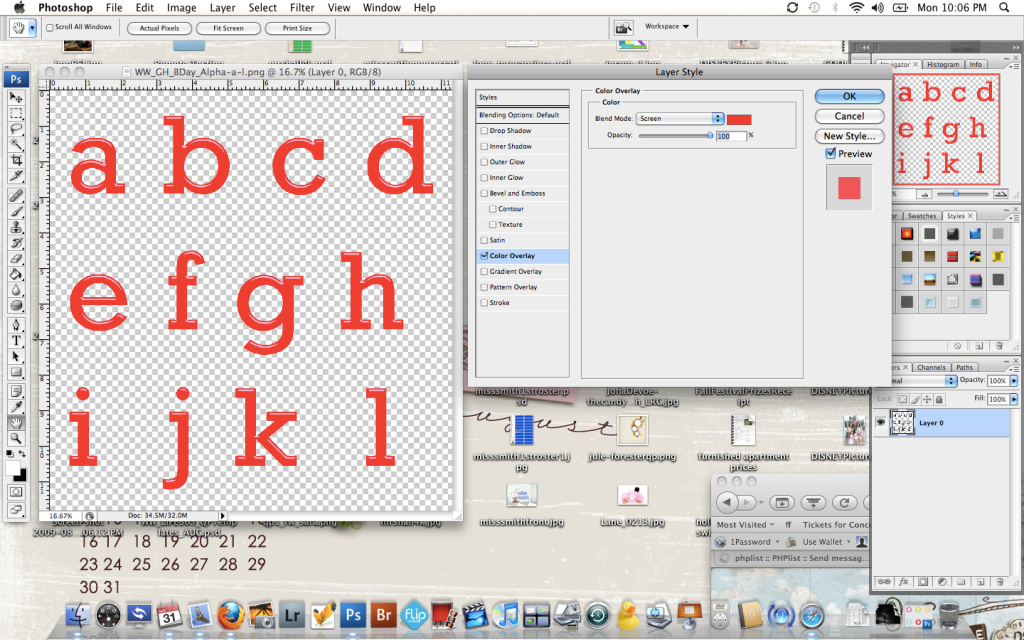 now you want to pick your color to match your oh so fantastic layout!!! click on the red box next to blend mode and you will get a huge color picker!
to get that perfect matching color, open up a Photoshop file and roll your mouse over the color you want to match…you will have a dropper tool…click down and that color becomes your overlay color! AND YOU DID IT!!!!! 🙂
HAVE FUN!!!
(((hugs)))