Hey There! I hope you are all having a fantastic Tuesday!!! We are going strong and having so much fun capturing LIFE 365 (remember you can start this at any time…nothing says it had to be 365 from January 1! So if you are still interested hop on over to the forum and join us in the fun) Even if you are not taking on this project…there is still fun in this tutorial for you! I am trying to make the tutorials relevant to questions that we are getting in the forum.  An early question was "Gina,would you mind creating rectangle/landscape template also ? I would certainly appreciate that. I always scrap in those style, but that kind of template is hard to find. It took me longer to scrap since I have to resize the template. Thank you for reading my silly request." – Camelia321 (fun Weedster Fan at the forum)
We love your questions and the Weeds Team and Fans are happy to help us all succeed at this project and at digiscrapping!
So I answered in the forum but promised a tutorial with pictures…so here we go!
(one more thing before we start-if you are not a rectangle scrapper, still read the tutorial…some of the tips on resizing can be used in your scrapping with elements or papers…it is just taught in a format that shows how fast and easy you can convert Gina's templates to rectangle if that is the album size you prefer)
The easiest way to do this tutorial would be to start with a blank template and follow the resizing instructions and create from the start as a rectangle… but to cover more people and possibilities we are taking a layout that was completely done as a 12×12…I am just changing my mind and wanting to make it rectangle now so I opened my .psd file and we are starting from there. (one more note-I am trying to add the photos small on the blog where you read but if you click on them they should get larger in another window so you can see details better…just hit the back button to get back to the tut after you see the up close view of the image)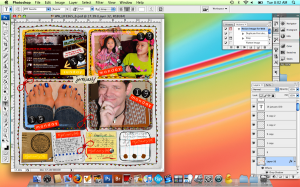 I find it easiest to first resize the layout BIG 12×15.529 so that all the elements will move right on to the page in the proportion that they were all created for….then when we are all done we can resize to 8.5×11 and it is a perfect fit! I am including images of the steps since we have lots of new scrapping friends joining us with this project!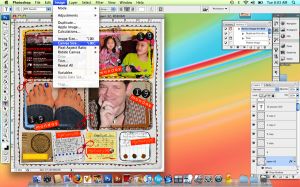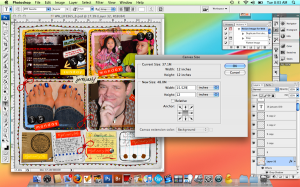 now we are changing the canvas size because we want to add width…the 12×15.529 get you the right proportions to later make this 8.5×11….one other thing though that is neat and makes resizing templates fast and easy is to anchor your image before you add the extra space on the side…notice those arrows going all directions just above? well if you are making a book it is great to keep some kinda blank space towards the inside margin portion….so this page is going to be on the right of my book…I want the blank space on the left that will slip down in the margin…so I anchor to the right… now you see all the arrows pointing left and up and down…that is where it is pushing all the new canvas you are asking for! You haven't added any height so the up and down won't happen but all the 3.529″ will go to the left (15.529inches we are making it minus the 12inches we started with)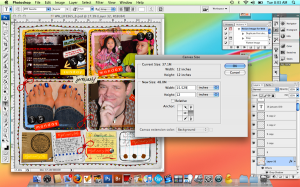 and we get this…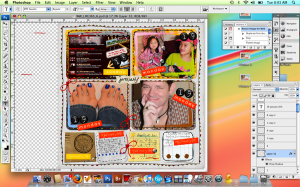 now those stray threads….there is a perfect example where if you know you are going to always print rectangle…go ahead and resize your template before you start adding elements and pretties! BUT I didn't and some of you may not have either…it is not a huge deal to get those gone! I just had to find which layer those stitches were on…not that you need the bright green highlighter to see them but just in case (lol)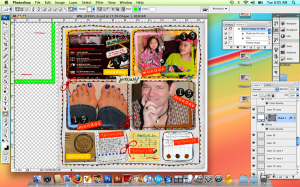 then I went and got my eraser tool…I showed you in the image all three options that are in with the eraser because if you look on your toolbar and don't see the eraser right away…it may be tucked under one of those other two options…hover over it until you can pick the eraser if it is hiding…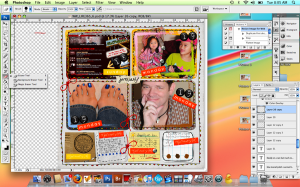 OK…that was easy and those strays are gone!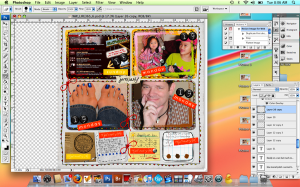 but we have that blank space left over to the left…sure it is going to be in the binding but we will still see it so we need it pretty! easiest thing would be to pick and accent paper that goes and just add it under your background layer and have it there…in case you are like me and want it to match but don't want to lose quality on the background paper by stretching it out … you can do this… duplicate your background layer…
then slide it over to fill that space…it is looking good but not totally seamless… if you look closely you will see where the paper overlaps on the left side of the cute border…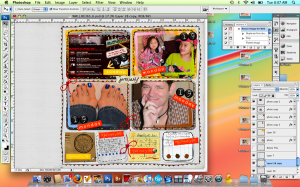 it is easy enough to soften that up… go grab your eraser and be sure you top layer is over the other by a little bit…then just run your eraser down the edge to take away that clear edge that is standing out…now it is not as easy or almost impossible to find the edge…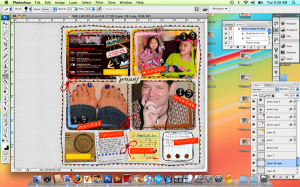 OK…now you may want to move everything BUT THE BACKGROUND over a tiny bit or a lot…. easy to do that… in your layers… take the layer just above your background…. then hold SHIFT and go to the top layer you have…that will highlight them all in blue in that range…. then you have your dotted box with the corners you can move over up around AND you can RESIZE here if you grab the corners…. for CS3 you hold shift to keep the right proportion…word is that in Elements it defaults to keep proportion and if you hold shift it will make it NOT be in proportion so just something to think about…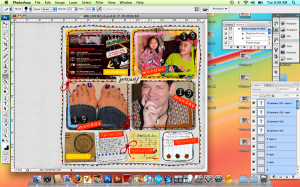 so in CS3 when I click on the arrow shown below I get the option to transform my selection…whether it be one layer or all these layers that are in blue that I have chosen…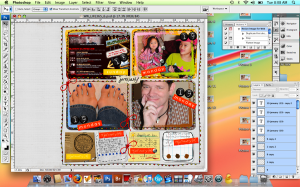 if you look just under the border you see the resizing line but it only one of the four lines….that is impossible to resize with but has an easy fix…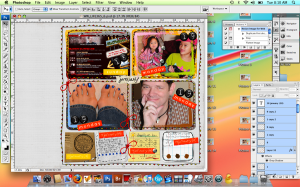 I hold COMMAND and click on 0 (Zero) and it will resize so I can see all the edges of all the files that are active…you can use this trick when you are resizing elements on the edge of your pages too…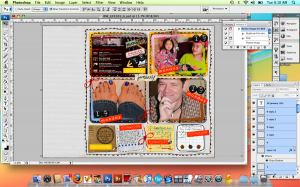 now if clicking on the arrow does not automatically give you transform options…no biggie go here… EDIT TRANSFORM then you can pick SCALE for resizing and lots of other options if you want to play!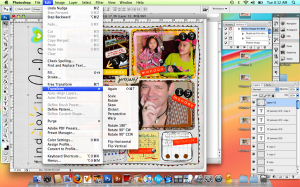 OK…now while this is a beautiful 12×15.529 layout we are going through all of this because we want to print on 8.5×11 paper…. now is the time to resize… go to IMAGE and IMAGE SIZE and notice the boxes of options to have checked…as long as constrained proportions is checked you can just make the height 8.5 and everything else will happen just like it is supposed to for you!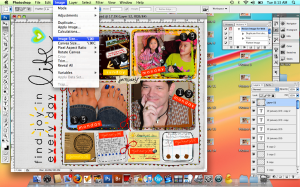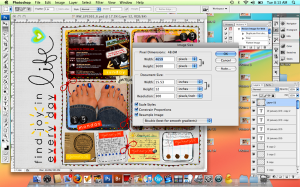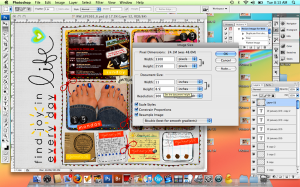 then the final rectangle 8×5 x 11 page! (If you need a different rectangle size for your printing and need the dimensions for your finished size, post in here with what size you pixels or inches you need for your final print image and I will give you those too)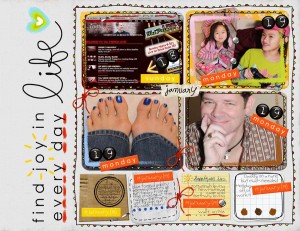 Have a great day! Thanks for stopping by and we are sooo serious…there are no dumb questions or none too small so please ask here or in the forum if anything is hanging you up as you take on the rewarding and worthwhile project of scrapping your special memories!!!
(((hugs)))